Big Data and Knowledge Discovery Through Metapictorial Visualization
— William Bevington
This paper discusses the interplay between the characteristics of what we call Big Data and the quality of visual representation for big data. Particular emphasis is then given to how these visual representations support Knowledge Discovery. Tracking through a soft taxonomic approach, we explore different approaches towards the realization of big data visualization.
Download this PDF
---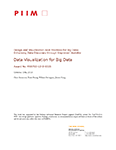 Data Visualization for Big Data
— Chris Goranson, Xinle Huang, William Bevington, Jihoon Kang
This paper documents a number of data visualization methods and in particular those that are used in rendering Big Data, based on observations during DARPA's XDATA program. Maps, graphs, charts, diagrams and tables are discussed as components of many composite data visualization dashboards applied to Big Data interfaces.
Download this PDF
---
Expediting Cooperation in Government-funded Open Source Programs: Incremental Agent-based Mapping, a Pattern Language for Collaborative Cognition
— Bernd Riedel and Chris Goranson
This paper documents how Incremental Agent-based Mapping can be an effective way of encouraging cooperation amidst competition in order to develop open source software. This framework serves as a way to collect, document and disseminate information gleaned from the process and align it to the goals of government funded research.
Download this PDF
---
Health Design Challenge: Reinventing the Patient Medical Record
— Parsons Institute for Information Mapping team
Electronic Medical Records (EMR) are often difficult to read by a patient. Lack of adequate hierarchies and visual cues make it difficult for readers to understand the content without having to learn how to read the record. Current health issues of importance are often not highlighted, leaving the patient overwhelmed with information...
Download this PDF
---
Advancing Meaningful Use: Simplifying Complex Clinical Metrics Through Visual Representation
— Brian Willison
As health care reform sweeps the country, more and more provider sites are integrating Electronic Medical Records (EMR) into their practice. In addition to providing health care professionals with access to data they have traditionally managed in a paper file — lab results, visit notes, diagnostic test results, payer information, demographics, health histories, prescriptions, etc. — EMRs offer enhanced features, such as...
Download this PDF
---
Contextual History and Visual Timeline of AHLTA and VistA/CPRS Products
— Benjamin Bacon and Sayoko Yoshida
The development of computer-based patient record systems became crucial and set as priority in the US healthcare systems when President Lyndon Johnson signed the Social Security Amendments Act, known as the Medicare Act in 1965. Since 1968, the Department of Defense (DoD) has pursued the goal of providing computer support to its hospitals and clinic. During fiscal years to 1976 to 1984, DoD spent about $222 million...
Download this PDF
---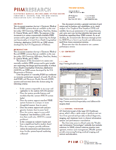 Electronic Medical Record (EMR) System Review
— Christine Hoover
This document examines the top 6 Electronic Medical Record (EMR) systems that are available on the market today: GE Centricity, AllScripts, NextGen, Amkai, E-Clinical Works, and E-MDs. The purpose of this document is to assess commercially available EMR systems and to gain insight into improving the design and functionality of Armed Forces Health Longitudinal Technology Application (AHLTA), an EMR system...
Download this PDF
---
Web 2.0 System Architecture Guidelines (Overview and Source Documentation)
— Benjamin Bacon
Advances in software engineering and the expansion of web-based interactions have provided a wide foundation of methodologies and standards for implementation of small and enterprise-quality systems. This research document serves as a comprehensive information-set of innnovative technologies and strategies...
Download this PDF
---
Guidelines for GUI Analysis — Assessments and Recommendations for Graphical User Interfaces of AHLTA and VistA CPRS
— Jihoon Kang
The Parsons Institute for Information Mapping (PIIM) performed a Graphic User Interface (GUI) focused assessment of two Electronic Medical Record (EMR) systems: Armed Forces Health Longitudinal Technology Application (AHLTA), developed by the U.S. Department of Defense; and Computerized Patient Record System (CPRS), developed by the U.S. Department of....
Download this PDF
---
Usability and Heuristics Practice — Methods For User-centric Software Development
— John McLord
A wide variety of methods used to create interactive products exist, but the most successful have two key aspects in common: an understanding of user needs, and clemency in the event of user error. To date, very few of even the best present a balanced and unbiased approach that puts all parties — clients, designers, engineers, managers, usability experts, users...
Download this PDF