Home > Research > PIIM PAPERS™
PIIM PAPERS™
Wide open research initiatives allow PIIM staff to continuously explore myriad facets of information and knowledge visualization and its integration with our daily lives. Below is a compilation of our best work in this area.
PIIM PAPER: Data Visualization Design Guidelines
— Jihoon Kang
The effective visualization of data benefits users and consumers through an improved ability of data analysis for decision-making. Different data visualizations may be necessary depending on the user's objectives. This paper explores some ways to develop well-crafted data visualizations from the perspective of an Information Designer. Very fundamental graphic design tips can bring significant advantages to the data visualization.
Download this PDF
---
PIIM PAPER: Designing an Open Source Presentation Layer for the Patient-Centered Medical Home
— Christopher Goranson & Jihoon Kang
The Parsons Institute for Information Mapping (PIIM) through funding provided by the Telemedicine & Advanced Technology Research Center (TATRC) is developing a widget-based prototype for the Patient-Centered Medical Home (PCMH) environment. Through a collaboration with the Walter Reed National Military Medical Center (WRNMMC)...
Download this PDF
---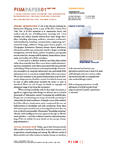 PIIM PAPER 01 Part 1: A Visualization Based Taxonomy for Informative Representation: Introduction and Overview
— William Bevington
Today, a great deal of human activity falls outside of traditional human labor-intensive initiatives, such as agriculture, manufacturing, and mining. The effective control of these activities and other human-to-human, human-to-machine, and human-to-nature activities involve the acquiring, discerning, and distributing of information. Knowledge workers...
Download this PDF
---
PIIM PAPER 01 Part 3: A Visualization-Based Taxonomy for Information Representation: Identifying Images with Icon Schematics
— William Bevington
Introduction: This document is one of a series of web-available papers dealing with issues of visualization and information design. The initial document of this specific series — PIIM PAPER 01, Part 1 — contains a detailed introduction to: VT-CAD, A Visualization Based Objective Taxonomy of Informative Representations for the Classification, Analysis, and Design of Visualizations.
Download this PDF
---
PIIM PAPER 05: Models for Designing with Information: Cognizance & Aesthetic Oscillation
— William Bevington
Topical Introduction: The process of designing involves the conscious intention to create. This includes all aspects of communicating. Graphic design specifically involves the process of rendering tangible representations of things or ideas. Further, information design involves the creation of visually structured representations (utilizing consistent logic as to how content and other factors of the source are...
Download this PDF
---
PIIM PAPER 06: Models for Designing with Information: The Problem & Solution Quandary
— William Bevington
A solution to every problem? A supposition that pervades much of our educational and professional environment is the belief that every problem can be isolated and solved. This thinking process compels us to "solve the thing" and move onto evermore challenging problems. If this problem / solution approach were only to be found in our most logic-based undertakings, it might be justified; but the same formula has...
Download this PDF
---
PIIM PAPER 09: A Fabel of Æsthetics & Technology: With Observations on the State of Their Union & Commentary Regarding Their Offspring
— William Bevington
Once upon a time the King of the Five Senses, and the Queen of Insight had a beautiful daughter. They named her Æsthetics, but they called her Esther. Esther grew to be creative and engaging, sometimes serving and sometimes wishing to be served. She could be exotic or pragmatic; at turns wild or tame; emotional and stormy; or as placid as a deep forest pond. For her the senses were ablaze with the richness of...
Download this PDF